I Watched James Corden Thrusting On The "Cinderella" Crosswalk Musical With Camila Cabello So You Don't Have To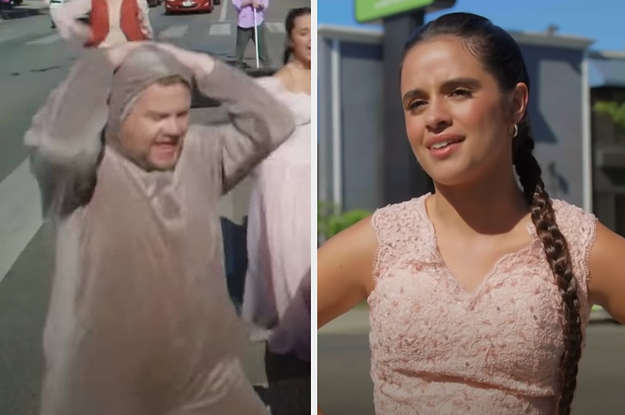 I knew this day would come. From the moment I saw that cursed, viral video of a grown man in a mouse costume hip thrusting on the street, I knew my days were numbered. And now it is here. Yes, dear reader: The Late Late Show with James Corden "Crosswalk the Musical" of Cinderella is here.
Of course, this isn't any old version of Cinderella. No, gone are the bygone days of 2015 when we had the last live action version! No, this is the Amazon Prime version of Cinderella starring Camila Cabello…obviously.
If you haven't seen the James Cordon crosswalk musical schtick before, it's pretty simple: He gets artists to stage a performance of their work while drivers wait at a red light on the streets in LA. Of course, James himself gets rather involved. In this case, it does make sense as he's in the movie as a mouse named James.
Anyway, this time round James was joined by Tony award-winning musical theater icon Idina Menzel, and Camila Cabello.
Billy Porter then shows up and calls James a, "Loathsome little BLEEP." Let's all imagine what he could have said here.
Behold, the music then begins. We open with a mash up of Janet Jackson's "Rhythm Nation" and "You Gotta Be" by Des'ree.
Look at the despair on this poor man's face. Look at it.
This woman just wants to go home.
Now, it's quite hard to tell if the people who are honking throughout this are doing so out of enthusiasm or pure, seething rage. I've never driven in LA before, so I'll leave that question open.
Next we have "Million to One," an original song for the movie.
Lest I be accused of being biased, I will say that this man is clearly fuckin' loving life.
However, I will say that James Cordon dressed as a mouse, holding a giant sewing needle, and yelling at oncoming traffic is what will haunt my nightmares from now until eternity.
Next we have Billy singing "Shining Star."
And, to be fair, they brought an entire horse out. I can say neigh bad things about that hahahhaha sorry.
Then it came to the moment I knew would happen. The moment that drew me in yet made me turn away. The thrust that launched a thousand memes.
If you thought I wouldn't bust out the GIF-making software for this, you'd be WRONG.
A cover of "Let's Get Loud" by J.Lo plays! People are dancing from their cars! Everyone is having a nice time! Except for me, the bitterest woman alive.
If this commentary has somehow convinced you to see more, you can watch the full video here. Happy Friday!
TV and Movies
Get all the best moments in pop culture & entertainment delivered to your inbox.